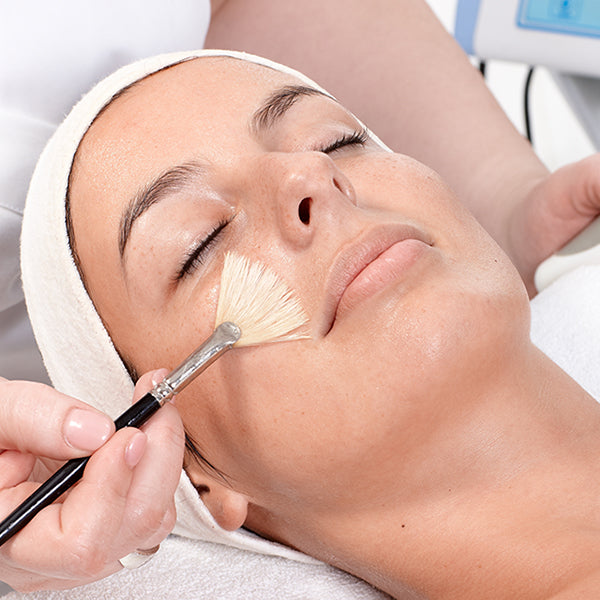 We are Facial Specialists
We offer a range of facial treatments customised to your skin and tailored to address areas of concern for you. Choose from our Signature Facials, Skin Juice or HydroPeptide offerings.

Our Signature Facials offer a lovely relaxing treatment for 30 minutes $89 or 60 minutes $141.
Skin Juice
Juice Taster Facial

$74 – 30 minutes
Skin Type: Customised to suit client's skin type and concerns.

Want a taste of Skin Juice? Your skin will be treated to 4 daily essential products as you are guided through your own Daily Diet regime. Experience how satisfying a healthy new skin diet can be with natural and organic Skin Juice products.

Plumping Pumpkin Peel

$121 – 45 minutes
Skin Type: Dry + ageing skin.
Skin Concern: Dehydration + ageing + pigmentation + dullness.

Put the bounce and brilliance back into your skin with this powerful treatment for skin with signs of ageing. Exfoliating plant acids and fruit enzymes help reveal a healthy, youthful glow, while a rich diet of skin protective nutrients deeply feed the skin and help stimulate faster cell renewal for a plumper and brighter complexion

Zen Berry Peel

$121 – 45 minutes
Skin Type: Sensitive skin, pregnancy safe.
Skin Concern: Prone to redness + dullness + dehydration.

Soothe and strengthen the skin with this super juicy hydrating peel. This antioxidant rich treatment has the ability to help reduce sensitivity, while pure enzymes and lactic acid work together to gently exfoliate and unveil fresh smooth skin. A hand, arm and scalp booster massage complete your zen experience.

Purifying Pineapple Peel

$121 – 45 minutes
Skin Type: Oily
Skin Concern: Breakouts + blocked pores.

Help clear breakouts and balance your skin with this clarifying peel. Organic pineapple juice and enzymes help exfoliate the skin, while fruit acids cleanse pores and help fight breakout causing bacteria. Fruit nutrients boost the skin's ability to protect against inflammation or infection. A hand, arm and scalp booster massage completes your healing treatment.
Hydropeptide
Hydropeptide facials and body treatments are designed to leave skin radiant and visibly lifted. Hydropeptide takes the most advanced, scientifically proven skin care elements and simplifies your beauty routine, age-proofing and restoring balance to all skin types. The Hydropeptide Collection includes an industry leading 62 different peptides, which are the building blocks of collagen and enable skin to look and act younger.

Choose from:
Quench & Glow Express Facial

$105 – 30 minutes
This nourishing facial will leave even the most thirsty skin hydrated and ready for any element. Peptides and brightening botanicals will instant penetrate the skin, increasing the water retention while reducing the appearance of fine lines and wrinkles.


Deluxe Detox Facial

$116 – 45 minutes
The research is clear: Pollutants, debris, free-radicals and blue light can damage the health of your skin, increase inflammation and accelerate the signs of aging. The HydroPeptide Deluxe Detox Facial incorporates a Honey Tri-Zyme Peel and a Nordic Detox Mask to ensure your skin functions optimally by clearing away build up, deeply purifying, repairing, replenishing and protecting your skin while strengthening its environmental defenses.

Anti-Wrinkle Facial

$146 – 60 minutes
HydroPeptide's Signature Facial. This relaxing, "no downtime" treatment infuses skin with the restorative and uplifting benefits of peptides, growth factor activators, and proteins. Begin the treatment with a two step peel that incorporates Vitamin C infused microdermabrasion crystals and a plumping activator to reveal fresh, glowing skin. A hybrid treatment mask purifies with bentonite and kaolin clays while wrinkle fighting peptides leave skin firm and rejuvenated. Fine lines and wrinkles don't stand a chance with this signature age-defying treatment.


Advanced Resurfacing Stem Cell Facial

$166 – 60 minutes
Give your exfoliation routine a professional boost with this instant resurfacing treatment that leaves skin smooth and refreshed with no down time. Six Botanical stem cells work to protect from external stressors while peptides rejuvenate and revitalize. Combine the best of science and nature to achieve age-defying results.